571-556-7609
Inpatient Drug And Alcohol Rehab Near Silver Spring Maryland
If you need a safe place to focus on dealing with substance use, place a call to Evolve Recovery Center. Our credentialed alcohol and drug rehab facility near Silver Spring Maryland welcomes individuals who are in need of extensive inpatient services. Our location is your source for dignified care in a comfortable environment so you may direct your attention on a successful recovery. We blend individualized treatment strategies with well-appointed accommodations to assist you in working towards enduring sobriety and a more fulfilling existence.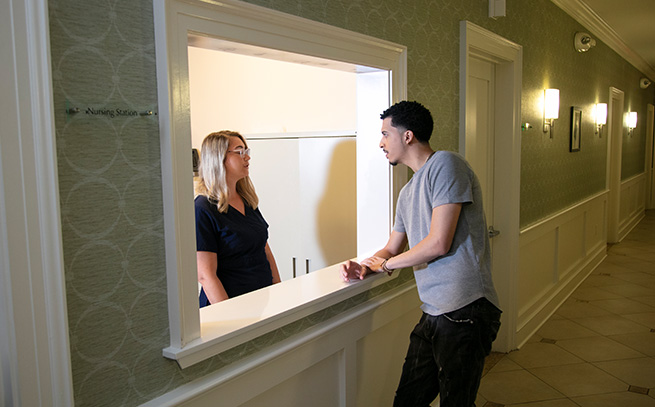 Evolve Is Your Source For Comprehensive Alcohol And Drug Rehab Near Silver Spring Maryland
If you've tried to overcome substance use previously or are preparing on undergoing treatment initially, our credentialed clinicians offer evidence-based substance abuse approaches that meet your unique situation. You'll build coping strategies for the triggers of your substance use while also getting help controlling co-occuring disorders such as anxiety and depression. When your stay is complete, you should leave with a roadmap and a greater understanding of how to sustain a healthier and sober life.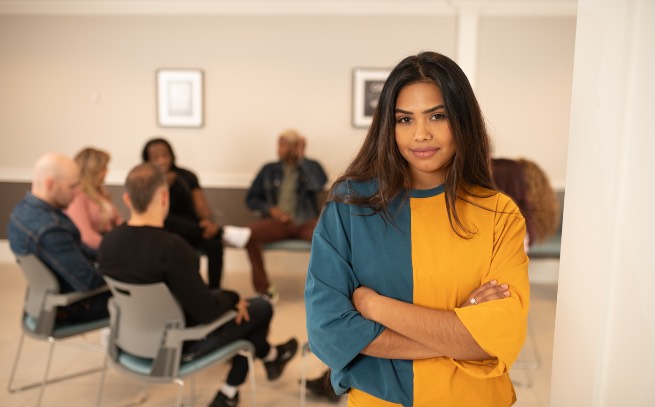 What does a typical day of recovery look like at Evolve? Each day adheres to a carefully designed plan of:
Meditation in the morning

Goal setting

Group therapy

About six hours of group therapy

12-step or SMART Recovery meetings

Peer support services

Aftercare development
Starting Care Is Easy At Evolve Recovery Center
Once you phone our facility to inquire about our alcohol or drug addiction treatment near Silver Spring Maryland, we can get you admitted by the next day. When you arrive, you'll be given a thorough medical and psychological appraisal and a urine drug test. We can then assign you one of our comfort-inducing bedrooms and talk about your personalized treatment strategy.
After you get here, one of our authorized clinicians will perform a medical and psychological assessment and a urine drug test. Next, we will assign you one of our relaxing bedrooms and review your personalized treatment plan. Feel free to pack like you'll have a multiple-week visit, but keep in mind that Evolve offers laundry facilities on site.
We Keep You Relaxed At Our Drug And Alcohol Rehab Facility In Silver Spring
We know the more relaxed you are, the more focused you will be on recovery. Evolve's stylish residential accommodations help you feel at ease while you are here. Every room is comfortably furnished and with its own bath and television. Most rooms will be co-occupied with an assigned roommate, but private lodging is available by special request.
We even offer numerous opportunities for recreation. Hang out and watch TV or play games in our common room. Rejuvenate with some time outdoors on our patio. You might even continue your exercise routine in our well-maintained gym. We also employ a house chef to make all meals and snacks, and we are happy to accommodate any food restrictions or allergies.
There's No Need To Go Through Recovery By Yourself
One-on-one therapy gives you the chance to examine the things that cause substance use, but we provide
group counseling and family sessions
too. At Evolve, you'll engage in groups that promote sharing and the development of communication and coping skills. We also engage loved ones from the onset of treatment and our staff stays in frequent contact with your concerned relations. This may consist of arranging calls with your loved ones and inviting them to take part in group therapy sessions.
Evolve Is Just One Part Of A Continuum Of Care
Praesum Healthcare has assisted a great number of individuals in the journey of recovery since our beginning in 2004. We are ready to assist you no matter where you are on that path. We believe that every individual deserves sympathetic, customized treatment and have implemented a "continuum of care" to assist you at every step.
Evolve Recovery Center Fairfax offers inpatient treatment to implement the structure needed to achieve long-lasting sobriety. Every single thing we do is centered around accommodating your specific requirements and allowing you to master the physical and emotional triggers of substance use. We are credentialed nationally with distinguished organizations, and our authorized team of counselors, nurses, and behavioral health technicians provide skilled around-the-clock support.
Evolve Is Ready To Help You In Silver Spring
If you or a member of your family need alcohol or drug rehab near Silver Spring, dial 571-556-7609 or fill out the following form for prompt assistance. We're here for you around-the-clock, 365 days of the year. All phone calls are complimentary and held in confidence. Help is here for you.