571-556-7609
Inpatient Drug And Alcohol Rehab Near Centreville Virginia
If you've had enough of trying to handle substance use disorder on your own and would like guidance from experienced clinicians, consult with Evolve Recovery Center. Our respected drug and alcohol rehab facility near Centreville Virginia offers the highest level of patient care with customized treatment plans and hospitality-inspired rooms and community spaces that help ensure sobriety is always the top priority!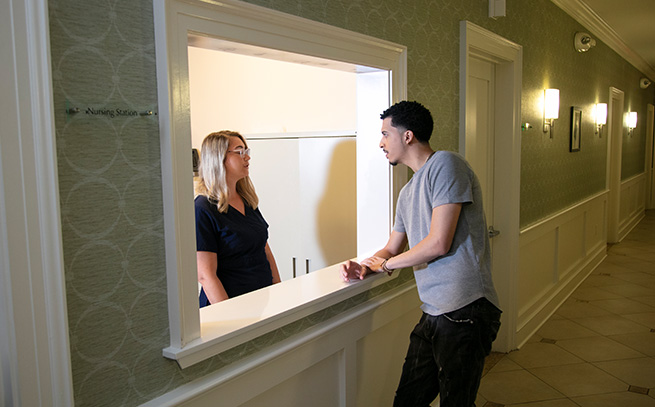 Inpatient residential care allows you to develop the tactics for enduring recovery in a welcoming and conducive location. Our licensed clinicians tailor evidence-based therapy approaches to fit your exact situation, regardless of whether you've had treatment for substance use previously or you're thinking about a rehab program for the first time. Attending both individual and group therapy, you'll gain a better understanding of your root reasons for addiction, effective coping mechanisms, and ways to manage any co-occurring behavior disorders. Our goal is to aid you in developing the skills you need to live a healthy and sober manner of living.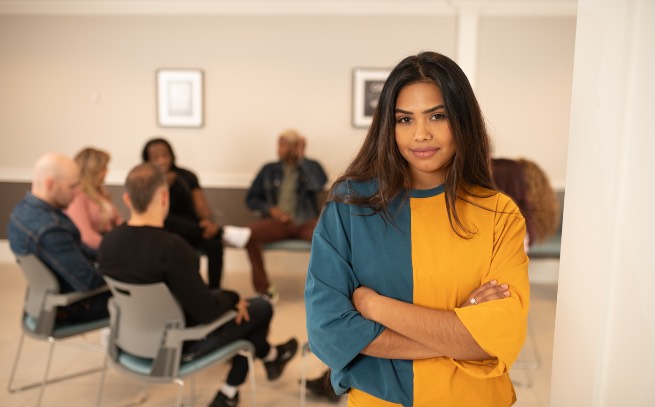 During your stay at our inpatient drug and alcohol rehab center, you'll use an individualized schedule that could include:
Early morning meditation sessions

Goal setting meetings

Group therapy

Private therapy

SMART Recovery or 12-step discussions

Peer support services

Aftercare strategy sessions

.
Get Started Today At Evolve Recovery Centers
Call Evolve now, and your drug and alcohol rehab will commence right away. Our team are able to help with matters like insurance verification, documentation for medical leave, and any required medical or legal paperwork. We also schedule free-of-charge transportation from your home or the airport.
We feel getting started on your care needs to be easy and we'll do everything we can to help. We are able to schedule no-cost transportation from your address or the airport if you don't have a way to get here. We also advise you on insurance validation, inquiries about coverage limitations| and expense, and paperwork for short-term leave benefits.
A Restful Setting Allows You To Center Your Attention On Your Drug Or Alcohol Rehab Near Centreville
One of the cornerstones to a successful recovery is to make sure you are entirely comfortable and focused on treatment. Our guest quarters all provide conveniences including in-room baths and TVs.
In your spare time, you might read, catch a TV show, or play games in our resident area. Our made-on-site meals are prepared to fit any dietary restriction, and snacks are available at any time. Get some sun outdoors on the patio and leisure area, or relieve stress in our well-designed gym.
Including Families For A Successful Recovery
We understand that you are likelier to enjoy a successful rehab when you have family support. That's why we encourage the involvement of close relatives from the onset and provide drug and alcohol rehab information for families in Centreville Virginia. Our caregivers will sustain steady contact with family and will schedule conversations for patients. We also invite your family to get involved in group therapy to learn more about how to aid the recovery effort.
Insights Into Evolve Recovery Center Near Centreville Virginia
Praesum Healthcare is the proprietor of Evolve Recovery Center Washington, D.C.. We started our first facility in 2004 with the vision that individuals grappling with substance use disorders have a right to compassionate, personalized care. From that point on, we have developed a "continuum of care" that features a network of substance use and behavioral treatment locations to help you regardless of where you are on your road to recovery.
Evolve Recovery Center Fairfax offers inpatient treatment to implement the structure needed to achieve long-lasting sobriety. Every single thing we do is centered around accommodating your specific requirements and allowing you to master the physical and emotional triggers of substance use. We are credentialed nationally with distinguished organizations, and our authorized team of counselors, nurses, and behavioral health technicians provide skilled around-the-clock support.
Evolve Is Ready To Help You In Centreville
If you or a member of your family need alcohol or drug rehab near Centreville, dial 571-556-7609 or fill out the following form for prompt assistance. We're here for you around-the-clock, 365 days of the year. All phone calls are complimentary and held in confidence. Help is here for you.